COVID-19 Notice from Arbor CT
Abor Services of CT is doing the utmost to prevent the spread of COVID-19 and protect the health and safety of our clients, our workers, and the community. As a result, we are asking for your cooperation by taking the following precautions:
• In general, for tree care and plant health care services, you do not need to be present when the crew arrives.
• If you are home when the crew arrives, please do not go out of your house to greet them. If the salesperson or arborist crew leader has any questions, they will call you. Please be prepared to answer the phone if they do call.
• Please respond promptly to any work verification emails or calls if asked.
• If, for any reason, you are outside or otherwise meet our crews in person, please practice social distancing by keeping to the CDC's recommendation of staying six feet away.
• During this time, our employees are assigned one individual per vehicle, which means some of our crew may arrive in their own personal vehicles. Vehicles are being deep cleaned and disinfected daily.
Serving Litchfield County and Beyond
A complete tree care company run by certified professional arborists!
Arbor Services is a complete tree care company: we plant, fertilize, transplant, prune, cable, install lightning protection, treat for insect and disease problems, remove trees, grind stumps, consult with and advise landscape architects. We educate and inform you about proper tree care. We want to help manage your investment, but not limit your options in the future. We have relationships with the tree care industry's best professionals for more than 20 years. We will grow the legacy of your landscape, and make your project happen.
History of Arbor Services of Connecticut
Arbor Services opened for business on Labor Day, 1988. Our mission was to provide the best service to our clients, the best opportunity for employees (though we couldn't fathom our eventual growth at that point), and a living for our family. Nothing has changed from this original mission.
However, everything else has changed. The Volkswagen Jetta we started out with has been replaced by a fleet of modern trucks and equipment. It was a great day at Arbor Services when we moved the "shop" out of our basement into a real barn, and stopped dodging all the laundry baskets. We also have thousands of clients, along with most of our originals. Our knowledge of and skills in arboriculture, used to provide the best tree care, is constantly growing due to regular attendance of classes and seminars. This growing knowledge, combined with the equipment and manpower allows us to accomplish tree care of superior quality, in the safest, most cost effective manner. The way we do this is only as a direct result of relationships with people, and results on their properties, as seen by our caring for their trees over time.
Let's get started on your project!
Send us some information and someone will contact your shortly.

Professional Certifications
William Pollock and Stephen Banffy demonstrated professional competency by successfully completing the CERTIFIED TREE WORKER examination administered through the International Society of Arboriculture (ISA) and the local Chapter of the ISA.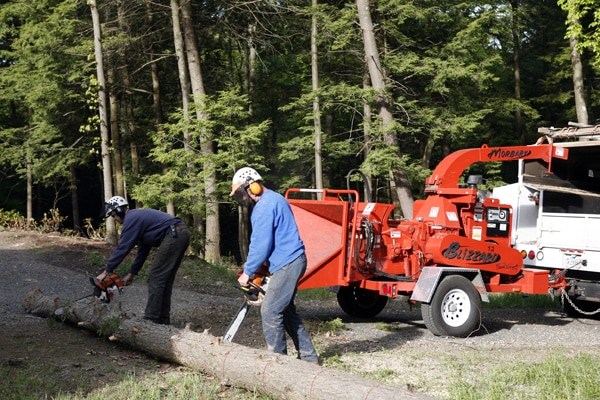 Arborist License #62352 | Certified Arborist #NE-0387AT | DEEP Registration #B-1172 | Home Improvement Contractor #HIC.0641970